Preparation Time: 5-10 minutes
Cooking Time:10-15 minutes
Ingredients For Chicken:
Boneless Chicken -1/2 Kg
Red chili powder-1 teaspoon
Ginger garlic powder 2 teaspoon
Turmeric powder 1 teaspoon
Black pepper powder 1 teaspoon
Corn starch 2 tablespoon
Lemon juice 2 tablespoon
Cooking oil 4 tablespoon
Salt to taste
Pizza sauce 1 cup
Grated mozzarella cheese 1-2 cup/Cheese slices-6-8
Thinly sliced tomatoes-6-8 slices
Ingredients For Grilled Vegetables:
Red capsicum thin slices 1 cup
Yellow capsicum thin slices 1 cup
Green capsicum  thin slices 1 cup
Tomatoes thin slices 1 cup
Onion thin slices 1 cup
Black pepper powder 1 teaspoon
Cooking oil/olive oil 2 tablespoon
Salt to taste.
Procedure For Grilled Chicken: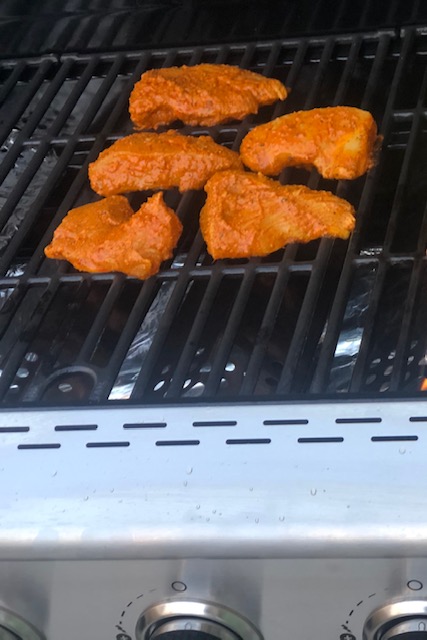 Take cleaned washed boneless chicken thigh make thin long  slices and set aside.
Mix all the ingredients ( red chili powder, turmeric powder, ginger garlic paste,black pepper powder,corn starch,lemon juice and salt) in a plate.
Now add thin slices of chicken and rub the marination on chicken slices and transfer them in to a bowl.
Cover the bowl with plastic wrap and refrigerate for 4-12 hours.
Now preheat the grill/grilling pan , grease the grill/grilling pan with oil.
Now place the marinated chicken pieces on grill or grilling pan and allow it to grill on medium flame until light brown.
Flip the chicken and add pizza sauce (Pizza Sauce) then add grated cheese/cheese slice  and one sliced tomato on the top and cook covered until its done.
Serve hot as a stater with some grilled vegetables.
Enjoy.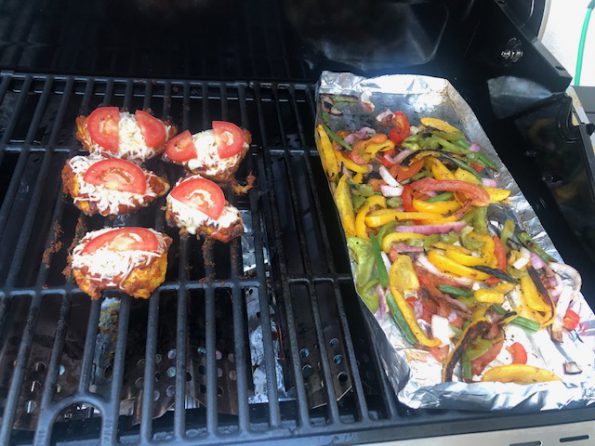 Procedure For Grilled Vegetables:
Add all the sliced vegetables in a mixing bowl.
Now add salt pepper and oil give it a toss.
Set aside for sometime.
Preheat grill, then grease the grilling pan with oil and add all vegetables  and grill them until grill marks and appear on the veggies, if you are using grill  then preheat the grill to 350 Fahrenheit, place a heavy duty aluminium foil on grill and grease with oil and then add all the veggies and grill until they are done.
Serve hot with grilled chicken.
Enjoy.