Introduction:
Gobi Manchurian is an Indian Chinese fried cauliflower food item popular in India.Gobi (Cauliflower) Manchurian is the result of the adaptation of Chinese cooking and seasoning techniques to suit Indian tastes.Gobi Manchurian can be prepared in two stages, the first stage requires preparing a spiced corn flour batter, dipping cauliflower florets in it and deep frying them. In the second stage, the deep fried florets are sauteed with chopped onion, capsicum,garlic, etc. in soy and chili sauce.
There are two different variants of gobi Manchurian, dry and with gravy. Both variants are prepared by using common ingredients like cauliflower, corn flour, maida flour, spring onion, capsicum, soy sauce, chili sauce, minced garlic, ground pepper, etc. and has typical garnish of spring onion.
source (wiki)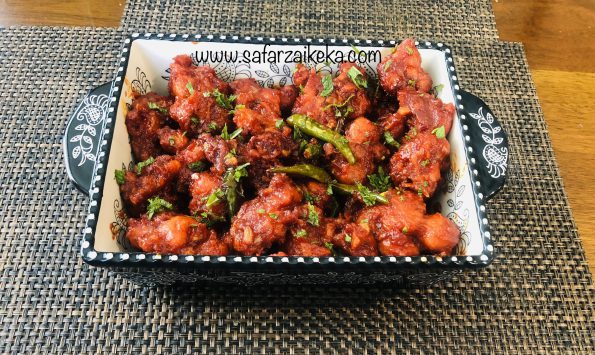 Ingredients For Batter:
Maida 1/2 cup

Corn flour 1 cup

Ginger garlic paste 2 teaspoon

Red chili powder

Egg 1

Salt to taste.
Ingredients For Seasoning:
Cauliflower 1 medium sized cut in to florets

Spring onion 1 cup

Ginger garlic paste 3 teaspoon

Red chili sauce 2 teaspoon

Soya sauce 2 teaspoon

Green chili sauce 1 teaspoon

Tomato ketchup 3 teaspoon

Vinegar 1 teaspoon

Salt to taste

Oil for frying

Coriander leaves for garnishing
Procedure:
Prepare a batter with the help of given ingredients by adding required amount of water.

 Batter should be thick otherwise it does not coat well on cauliflower florets.

Heat the oil in a pan, dip each floret in the batter and deep fry them.

Do not over crowd the pan while frying.

 Do it in 2 to 3 steps.

 Fry the florets until it turns golden brown in color.

Drain into a tissue paper, and allow it to cool.

 Now heat the oil in a pan adds chopped onion, green chilies, ginger garlic paste and saute.

 Now add tomato ketchup, soya sauce, green chili sauce, vinegar mix well, check for salt.

 Add fried Gobi florets and turn heat to high until the florets are well cooked with sauce.

 Add  finely chopped coriander leaves cook for few minutes.

Serve hot by garnishing with spring onion.