Introduction:
Seekh kebab, which literally means kebab on a skewer .Seekh Kebab is a popular Indian appetizer. These flavorful bites of  minced chicken or lamb are made with freshly ground  whole spices. Traditionally, they're made in a tandoor (a large clay oven), but most of us make them on the grill. If you don't have a grill no worries, you can make them in oven or in grilling pan.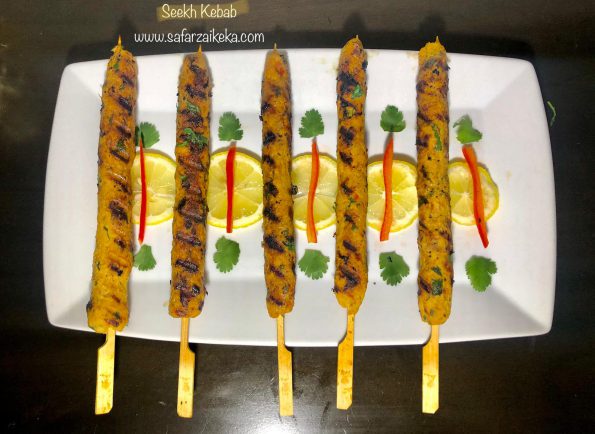 Preparation Time: 10 minute
Marinate Time: 15-30minutes
Cooking Time:10-15minutes
Ingredients  For Marinating Minced Chicken:
Minced Chicken or mutton / chicken or mutton kheema 1/2 Kg
Ginger garlic paste 2 teaspoons
Garam masala powder 2 teaspoons
Cumin powder 1 teaspoon
Black pepper powder 1 teaspoon
Kashmiri chili powder 1 teaspoon
Turmeric powder 1/2 teaspoon
Chaat masala 1 teaspoon
Salt to taste
Finely chopped onion 1/2 cup
Finely chopped red bell peppers 1/4 cup
Finely chopped yellow bell peppers 1/4 cup
Finely chopped fresh coriander leaves 1/2 cup
Finely chopped green chili 5-6
Instruction For Marinating Minced chicken/mutton:
In large wide pan add minced chicken .
Add all the spices.
Mix it well.
Add all the veggies.
Mix it well.
Cover with plastic wrap and set aside for 10-15 minutes.
Instruction For Making Kebabs:
Grease your hands with a little water, grab a handful of meat and roll it into the shape of a sausage – slide in skewer.
Grilling:
Heat the grilling pan on medium flame.
Grease the pan with butter/oil.
Grill the kebabs on medium flame until they are golden brown.
Serve hot with green chutney as stator or serve as a side dish.
Enjoy.