Ingredients For Rasmalai Cake:
Almond cake
Rasmalai
Whipped Cream
Lemon yellow gel color as required
Sliced pistachios
Saffron Strands 8-10
Ingredients For Whipp Cream:
Heavy whip cream – 225 grams
Cream Cheese 55 grams (optional)
Powdered Sugar 55 gram or as per taste
Rasmalai Cake:
Step by step picture recipe to make one of the most delicious Rasmalai cake, an Indian fusion that worth's trying.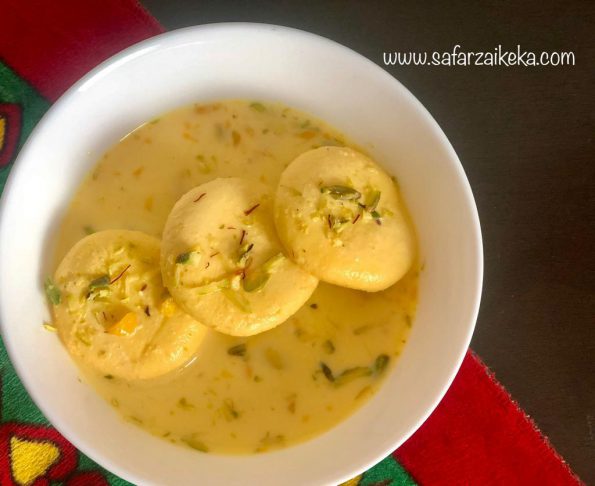 Rasmalai is such a delicious Indian dessert everybody loves it. Rasmalai cake is a fusion of Indian desert combined with the flavors of the cake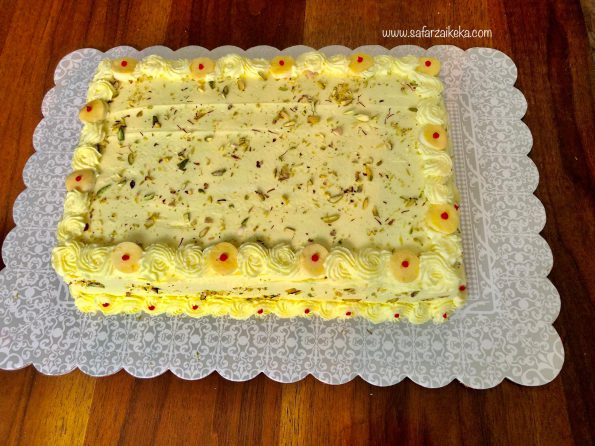 The base of the ras malai cake is flavored with almond essence. The almond cake is similar to the vanilla cake just replace the vanilla essence with almond essence if you don't have almond essence you can add cardamom powder and make cardamom flavored cake.
Instructions For Whip Cream:
Keep the mixing bowl in the freezer for 10-15 minutes and take out the bowl.
Add Cream cheese.
Mix the cream cheese with hand mixer.
Once the cream cheese is nice and soft, keep beating the cream cheese by adding a little heavy cream every few minutes mix well.
Once the heavy cream and cream cheese is mixed together now add powdered sugar and keep mixing until you get soft peaks.
Set aside.
Assembling The Cake:
You need an almond cake for making ras-malai cake please click the link for the almond cake recipe, http://safarzaikeka.com/almond-cake/ and trim the top part of the cake and soak the cake with ras-malai syrup.
Make a border with whip cream.
Happy Baking