Introduction :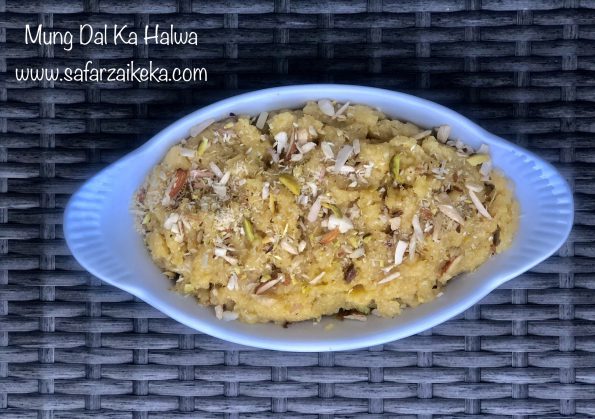 Moong dal halwa recipe: Moong dal halwa is an addictive and delicious halwa variety made from mung lentils and ghee (clarified butter). it is a popular and rich halwa recipe from north India. Moong dal halwa is delicious and one of the sweets you cannot stop eating.  but making this halwa takes a lot of time and effort. So make this halwa on a day when you have plenty of time, patience and energy.
Ingredients :
Mung dal 1/2 cup
Grated jagerry (gud)/brown sugar/white sugar 1/2 cup
Rava/soji 2 teaspoons
Milk 1/2 cup
Ghee 1/2 cup
Cardamum powder 1 teaspoon
 Sliced dry fruits
Instructions:
Take mung dal in a bowl and wash it with water and soak it for 5-10 minutes.
Drain the water and transfer the soaked dal to grinder jar and coarsely grind and set aside.
 Add ghee in large wide hot pan.
Then add semolina/ rava/soji and roast for few seconds.
Next add coarsely gridded paste of mung dal.
Keep roast on low flame for 5-10 minutes.
Now add milk and mix it well .
Then add jagerry/brown sugar/white sugar and mix it well.
Keep cooking and mixing till all the milk is  dried up.
Add half of the sliced dry fruit and give it a mix.
Mung dal ka halwa is ready.
Serve hot by garnishing with sliced dry fruits.
Enjoy.