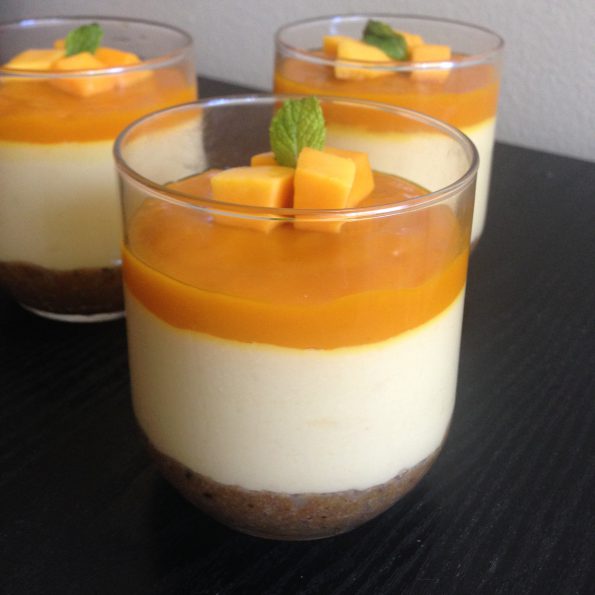 Preparation Time: 20 minutes
Setting Time: 3 to 4 hours
Servings: 3 people
Introduction:
Quick and easy way of making Mango Cheese Cake, No bake mango cheese cake can be made with cream cheese whipped cream,sugar/condensed milk,agar agar powder and mango puree.
Ingredients For Base:
Crushed digestive biscuits -1 cup
Melted Butter – 4 tablespoon
Brown sugar/white sugar 2 tablespoon
Ingredients For Mango cheese cake:
Cream cheese 1/2 pound
Heavy cream 200 ml
Granulated sugar 3/4th cup
Mango puree 1 cup
Agar agar powder 2 teaspoon
Warm water 2 tablespoon
Ingredients For Mango jelly:
Mango puree 1 cup
Agar agar powder 2 tablespoon
Granulated sugar 2 teaspoon
Procedure:
Combine graham crumbs, 3 Tbsp. sugar and butter; press onto bottom of 9-inch springform pan
Combine the crushed digestive biscuits ,melted butter , and sugar in processor or mixer.
Add equal quantity of biscuit mixture in 3 glasses, and press on to bottom and allow it to set in refrigerator for about 1 hour.
In a small bowl add agar agar powder and warm water mix well until dissolved.
Add this agar agar mixture to mango puree, mix well and set aside.
Next take heavy cream in bowl and beat with electric mixture/whisker until soft peak and set aside.
In another bowl mix cream cheese and sugar with electric mixer/ whisker , then fold in the whipped cream.
Now add mango puree mixture and mix in one direction and set aside.
Take out the glasses from the refrigerator (which contain digestive biscuit base).
Pour the cheese cake mixture over the base in all the glasses at allow to set in refrigerator for about 30 minutes.
In the meantime, heat the pan and add water, bring it to boil ,then add agar agar powder mix well.
Then add mango puree mix well and cook for few minutes and set aside.
Now pour this mango jelly mixture over the cream cheese and set in refrigerator for about 3 to 4 hours.
Serve chilled by garnishing with few pieces of mango and mint leaf.
Enjoy!!!