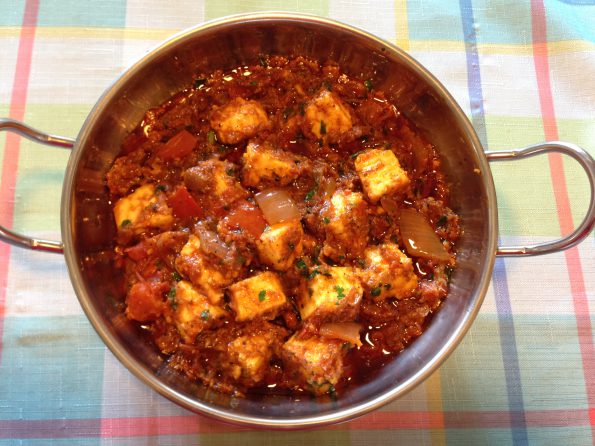 Preparation Time: 20 minutes
Cooking Time:20 minutes
Servings: 4 people
Introduction:
Kadai paneer is dish gets its name from Kadai, an Indian wok, which is essential for cooking Indian cuisines and used here to give smoky flavor to paneer (Indian cottage cheese). paneer cooked in a spicy, kadai masala and  gravy made of onions, tomatoes, and traditional Indian spices. It is one of the most popular Indian curries and cooked throughout the world. Kadai Paneer can be enjoyed with roti/chapati, plain paratha, naan or flavored rice like Jeera rice or Pulao.
Ingredients For Kadai Masala:
Coriander seeds 3 tablespoon
Cumin seeds 1 tablespoon
Fennel seeds (saunf) 1 tablespoon
Black peppers 1 tablespoon
Dry chili 6 to 7
Ingredients For Kadai Paneer:
Paneer Cubes 250 grams
Diced onions 1/2 cup
Diced tomatoes 1/2 cup
Onion ( finely chopped) 1 cup
Tomato puree 1 cup
Ginger garlic paste 2 teaspoon
Red chili powder 2 teaspoon
Garam masala powder 1 teaspoon
Kadai masala 2 tablespoon
Cashew nut powder 2 teaspoon
Turmeric powder 1/2 teaspoon
Kasuri methi powder 2 teaspoon
Heavy cream 1/2 cup
Cooking oil 4 tablespoon
Coriander leaves (finely chopped) 1/2 cup for garnishing
Salt to taste
Procedure:
Dry roast all the ingredients of kadai masala for 5 to 6 minutes and set aside to cool down.
Coarsely grind the roasted kadai masala and set aside.
Add oil to heated pan, then add chopped onion and fry till golden brown.
Add half of kadai masala , ginger garlic paste, garam masala powder mix well.
Then add turmeric powder ,red chili powder, salt saute for few minutes until oil starts separating from masala.
Now add tomato puree and cook covered for few more minutes.
Now add diced tomato ,and diced onion mix well and saute for few minutes.
Then add cashew nut powder ,kasuri methi and remaining amount of kadai masala mix well and cook for few more minutes.
Finally add paneer cubes and mix well, and cook for few minutes.
Then lower the heat and add cream and mix well.
Garnish with coriander leaves and kadai paneer is ready.
Serve hot with chapati,naan,plain paratha, or jeera rice.
Enjoy!!!