Introduction:
In Arabic, the word "halvah", "halwah" or "halva" simply refers to "sweetmeat" or "sweet treat". Thus, the term tends to be applied to many dishes suitable for dessert or as a sweet addition to a supper or afternoon tea style meal.The dessert is favorite all over Northern India and Pakistan. It is traditionally eaten during all of the festivals in India, It is served hot during the winter.Nowadays, gajar ka halwa is a popular worldwide dessert with many variations such as red velvet halwa, carrot and beetroot halwa, and cheesy carrot halwa. Source :(wiki)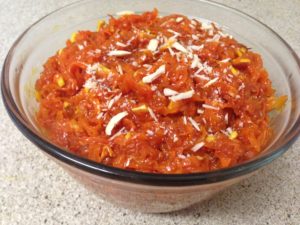 Ingredients:
Grated carrot 1/2 kg
Sugar 2  cups
khoya 1/4th cup
Ghee 2 tablespoon
orange color 1/2 teaspoon
Dry fruits finely chopped (cashew nuts almonds, and pistachio) 1/2 cup
Cardamom powder 1 /2 teaspoon
Procedure:
In a large and wide pan on medium heat add all the grated carrots and saute for 5 to 8 minutes or until the carrot become little soft.
Now add sugar and stir it well until the entire sugar water is dried up.
Now add khoya and continue stirring for few more minutes till the khoya mix well.
Now add orange food color and ghee and stir for few seconds.
Finally add cardamom powder and finely chopped dry fruit.
Allow it to cook for few more minutes with continues stirring.
Remove from heat, dish it out in a serving platter garnish with dry fruit, and silver paper and serve hot.
Enjoy this desert with your family and friends.