Introduction:
Lasagna with Cottage Cheese is a classic Midwestern pasta casserole dish with layers of rich meat sauce, pasta, creamy filling and cheese.This cheesy, saucy lasagna gets its wonderful flavor from a blend of ground meat chicken/goat , three cheeses (cottage cheese,Mozzarella cheese, Parmesan cheese and some exotic spices.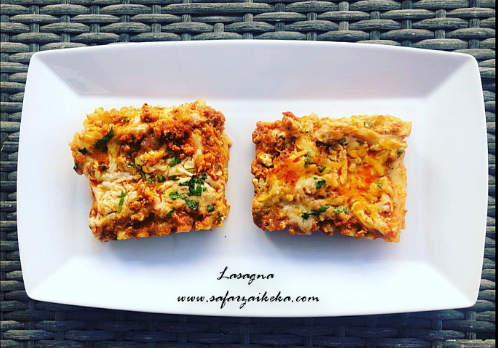 Preparation Time: 10 minutes
Cooking Time:50 minutes
Servings: 6 servings
Ingredients for meat sauce:
Ground chicken/goat meat 300 grams
Finely chopped onion 1 cup
Ginger garlic paste 2 teaspoons
Garam masala powder 1 teaspoon
Red chili powder 1 teaspoon
Salt to taste
Pizza sauce 1 medium bowl
Cooking oil 2-4 tablespoons
Ingredients for cooking pasta sheets:
Pasta sheets 9
Water 1-2 litres
Salt to taste
Ingredients for Cheese Mixture:
Cottage cheese 2 cups
Mozzarella cheese 1 cup
Parmesan cheese 1 cup
Egg 1
Black pepper powder 1 teaspoon
Dried and crushed basil & oregano leaves 1 teaspoon (optional)
Salt to taste
Instructions For Meat Sauce:
Heat the pan add oil and then add finely chopped onion fry till they are soft.
Add ginger garlic paste and saute for few minutes.
Add ground meat mix it well and cook for few minutes.
Add garam masala powder ,red chili powder, salt to taste  mix it well cook till done.
Add pizza sauce and mix it well.
Cook covered for 10-15 minutes on low flame and set aside.
Instructions For Cheese Mixture:
In large mixing bowl add cottage cheese, mozzarella cheese, Parmesan cheese ,egg, black pepper powder , dry basil and oregano leaves , salt to taste and mix it well and set aside.
Instructions For Pasta:
In a large pot boil the required amount of water.
Add salt to taste and add pasta sheets and boil till they are done.
After convenient  time transfer the pasta on strainer  and pour cold water to stop further cooking.
Let the pasta sheets be in cold water or place them in line by applying little oil to the plate.
Instructions For Assembling the Lasagna:
Take a large rectangular baking dish.
Spread a of layer meat sauce on the bottom of the pan.
Top with 3 pasta sheets laid lengthwise in the pan.
Spread the cheese mixture on top of pasta sheets.
Repeat same  sequence as sauce, pasta sheets, and cheese mixture.
Finish by adding last layer of meat sauce on the top of cheese mixture.
Spread Mozzarella cheese followed by Parmesan and add crushed  basil and oregano leaves.
Bake in the preheated oven at 375°F  for 45 minutes or until cheese is melted and golden brown.
Take out from oven and cool down for few minutes and cut in t slices.
Serve hot and enjoy with your family.